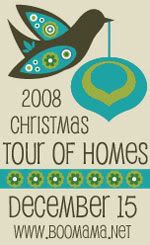 Welcome! I'm so glad that you were able to stop by. This year, I got a head start on our Christmas decorating, as I wanted our last Christmas (Lord willing) at this house to be special, not rushed. Please don't think by the date on the photos that I'm THAT anal-retentive. I'm not, really. Honest. Also, I'm sure you all know this, but you can click on the pictures to see more detail.
The picture you see above is my front door. I made the snow sign on the door with the help of my friend
Z
, and now that I'm looking at the sign, I probably should have trimmed the dowel rod shorter. Oh, well - next year! The Christmas lights hanging on the wall are made out of felt and florist's wire - cute, easy, and cheap (my criteria for crafts!) This would be so easy to do with stars, hearts, any seasonal decor.
This is our Christmas tree. For the first couple of years, DH and I decorated our tree in blue, silver and white. So pretty, but not very kid-friendly. Now we have mostly sentimental and non-breakable ornaments on our tree. I only use about 1/2 of my ornaments on my tree each year. I hope that our next house will have a higher ceiling in the living room so I will "have" to get a bigger tree!
This is our Fisher Price Little People Nativity set. I can't say enough good things about this set. BB has loved this set since we bought it the day after Thanksgiving. Typically, the set is scattered about the house being used with various monster trucks. I had to wait until nap time to round up the pieces for this picture ;)
Next to the tree is our entertainment unit, which we use to hang our stockings since we don't have a fireplace. The stocking in the middle is mine :)
Here is a close-up of the letters that I decorated when Z and I got together to make Christmas crafts. Some of my
ski people
are also hanging out here.
This is the door to BB's bedroom. I bought the joy sign as an unfinished wood sign for $2 at Michaels. I used Sharpies to "paint" the wood and then covered it with Elmer's glitter glue (love that stuff!). I think the sign might be too skinny to hang on a door - what do you think?
This, in case you can't tell, is the light in my living room. I bought all but one of these words on clearance at Target last year. They're meant to be ornaments, but I threaded some thicker ribbon through them and hung them from the globes of my fan. Target has the same words again this year, although in a different font. Originally, there was a red ball hanging with the green one, but it plunged to it's death and I haven't been able to find a replacement for it yet.
The piano is next to BB's door. This is where we have our
Jesse Tree
as well as a tree that holds our mini name ornaments. Until this year, I had the ornaments on the big tree, but I decided to move them to their own tree. I'm always afraid that I'll leave an ornament on the tree when we're packing up our Christmas stuff. It really doesn't matter since we use the same fake tree each year, I'm just weird that way.
The first year DH and I were married, I freaked out at the thought of the size of his family (his mom is one of 6, his dad is 1 of 4). I bought kits to make the snowman heart you see on the wall, and gave that to the various aunts. At the time, I didn't know that the adults in the family didn't exchange gifts. Needless to say, I have stopped worrying about that! The merry sign is another craft that Z and I made this year. The tree was a find at an estate sale.
Our stereo is currently holding our Advent wreath when it is not in use. To be honest, we haven't used our Advent wreath much at all this year. Neither DH or I grew up with this tradition, and we're having trouble getting this tradition established. We might pack this up and try it again in a few years when BB is older.
Atop the computer was deemed the safest place for our "real" Nativity set. Our set isn't anything fancy; it came from Wal-Mart. If you look closely, you'll see my angel nativity set and some additional ski people on the shelf below the nativity.
For the doorway between the kitchen and living room, I hung a set of indoor/outdoor lights I got on clearance last year. The space between the lights looked too bare, so I added some ornaments.
This is my Christmas village. I have loved Christmas villages for as long as I can remember. Most of the village is a little cheapy set I got at CVS last year, but the bottom shelf has the Lemax building I got at Michael's this year. I added a few Lemax accessories, but most of the trees and people came from Wal-Mart (much cheaper!). In case you are wondering about the giant Nutcrackers, I needed something to hide the ugly power strip for my village.
This is the wall my kitchen table is against. I'm not too pleased with how the shelf turned out, but I gave up messing with it.
My Christmas dishes and centerpiece. The tea light holders I bought individually on clearance at HallMark. I couldn't decide how to arrange them throughout my house, and when I saw the holder at Target, I took it to be a sign. The garland was some that I had left over from craft projects, and I topped the garland with some glass balls my parents bought in the 70's. You can't see my Christmas dishes too well in this photo, but you can see them better
here
, if you really care.
The pizza sheet on my frig is our Christmas countdown. I drew a Christmas tree on a cheapy pizza sheet and attached magnets on the back. Each year, I arrange 25 Hershey kisses on the tree. For each day in December, I get to eat a kiss :) I figure this is the last year I'll be able to get away with eating the kisses myself. BB has already asked me about this several times this year. I've a sneaking suspicion that he know's he's missing out. So far, he hates chocolate, but that can change by next year!
Now for the yummies - I don't have a picture to accompany - and really, you don't need a picture for this:
Super Easy Sausage Balls
1 LB sharp cheddar cheese (full fat)
1 LB hot sausage (I prefer Jimmy Dean, again, full fat)
3 C Bisquick, divided
1. Allow sausage and cheese to reach room temperature. If you are phobic about food poisoning, skip this step. It is easier to mix the ingredients if your hands don't get frostbitten, but I suppose it's better for your fingers to get frozen and fall off than to get food poisoning and die. Personally, as anal-retentive I am about clean kitchens and food, I let the food warm up for 15 minutes. It's still not long enough, but it's all I can stand. My MIL lets it sit out for an hour or so, and nobody has died from her cooking yet.
2. In a large bowl, combine cheese, sausage, and 2 C of the Bisquick. You can use a spoon or a mixer with a dough hook for this, but hands work best. Wear latex gloves if you're squemish. Once the ingredients are well combined, gradually add the last cup of Bisquick. Stop adding Bisquick when the mixture becomes difficult to manipulate.
3. Form into 1" balls on an ungreaded cookie sheet (after all, you ARE using full-fat cheese and sausauge; it's not like anything with that much fat will stick to anything except an artery) and bake for 10 minutes or until golden brown. Place on paper towels to drain and cool. If any are left after cooling, keep in an airtight container. I refrigerate mine, but most people don't.
Thank you so much for stopping by! I can't wait to see your house!