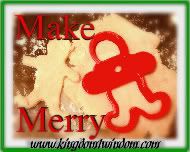 For my swap, my person is receiving this set of Christmas pillar candles:

The candles measure 6", 4", and 2". While I didn't make the candles, I did decorate the outside. I hope my person enjoys them!
To decorate the candles, I bought packs of cinnamon sticks at the dollar store, and one pack of mini Christmas embellishments. Using a sharp knife, I scored the straighter cinnamon sticks the desired length and then snapped them. With my hot glue gun, I then glued them one by one around the perimeter of the candle. After I finished with that, it was just a matter of gluing the ribbon in place and adding the trim.